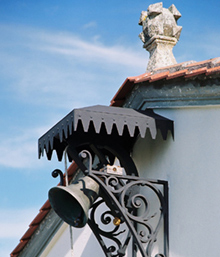 Welcome to the Lyçée de La Sauque.
Since 1943, la Sauque offers support and guidance to the pupils under its wing so that they can make the most of their potential and access the intellectual, moral, and spiritual education.
It's a small lycée in a quiet and comfortable location. There are about five hundred students and the boarding students have an important role here, with plenty of extra-curricular activities to chose from.
The school of knowledge, the teachers in la Sauque are demanding, strict, and effective, in order to provide a high quality education in the spirit of one of our patronesses, Simone Weil: 'The exercise of attention is the real objective and almost the only interest of studies.'
The school of life, la Sauque welcomes all those who are ready to fully commit themselves to the maxime of the English humanist, St Thomas More 'Vitae non scholae discimus' (We do not learn for school, but for life). This means that the discipline of the Heart goes hand in hand with the discipline of the Spirit, in consonance with the King Salomon's prayer: '…therefore give to Your servant an understanding heart!'.
Loyal to the founder of the school, Abbot Pierre Guilgault, former head of the Coqs Rouges (Red Rooster youth camp), teachers at la Sauque repeat to every youngster: 'Have courage and faith!'.
The headteacher,
F. CHASSAGNE