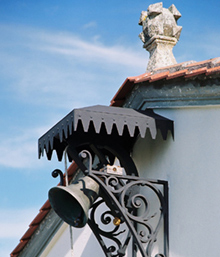 Welcome to the Lyçée de La Sauque website, where you will be able to discover the many facets of our institution.
Since 1943, La Sauque has been helping its students reach their full potential, providing education of the highest quality on an intellectual, moral and spiritual level.
Located in an exceptional setting, La Sauque remains a down-to-earth, approachable school (we have around 500 students every year), with boarders playing a central part in school life, with a number of extracurricular activities designed specifically for them.
La Sauque is, of course, a School of Knowledge: each and every student goes about his or her day in a demanding and rigorous, yet extremely productive atmosphere. In the words of Simone Weil: "the development of the faculty of attention forms the real object and almost the sole interest of studies" – we aim to encourage study in this spirit.
La Sauque is also, if not more so, a School of Life. We welcome those committed to living generously, following the motto of St Thomas More (Seneca?): "Vitae non scholae discimus": It is for life, not school, that we learn. This implies that the education of both heart and head go hand in hand, as in King Solomon's prayer: "Give me, O lord, a discerning heart!"
Faithful to the spirit of its founders, Abbott Pierre Guilgault and the Coqs Rouges, the entire faculty of La Sauque never ceases to remind their students: "Have courage, and be confident!"
F. CHASSAGNE