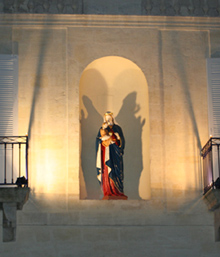 Welcome to La Sauque!
The school chaplain offers a warm greeting to our online visitors.
Our school welcomes students from all walks of life, and in a spirit of mutual respect offers its students a chance to discover the richness of the Gospel: the words of Hope and Love that God imparts to all men. The Lord wants to give all those who heed his word the courage to face the future, and can open themselves to eternity, to a love that is truly, bravely, everlasting.
It goes without saying that opening one's heart, and one's mind, is a daunting challenge. Can a high school face up to such a challenge? The answer is a resounding yes; a catholic high school can – and must – do so: above all, our school is a school of Life.
Let me share some confidences with you: At La Sauque, I have witnessed many a student come forward in agreement with our ambitions, and, leaving worry behind –and we can understand them! – take flight and found themselves to live in real, tangible but demanding happiness.
I have seen students pray, and turn sincerely and loyally towards God in difficult circumstances; I have seen non-believing students in want of dialogue, and exploration; I have seen students make every effort at the service of the sick in Lourdes. I have seen students choose peace, and forgiveness – amongst themselves or their family.
I have seen students reject the artificial paradises in which they had found themselves, instead turning confidently towards a stronger, healthier life.
I have heard students speak with joy, and honour, about purity and truth. I have seen signs capable of moving the heart and banishing pessimism, to spread Hope in its place.
And God is never far from he who seeks truth and fights for justice.
May God preserve us! May Our Lady of La Sauque watch over us!
Father Marie-Arnaud Gualandi